The Czechoslovak People's Party in Struggles for the Interwar Democracy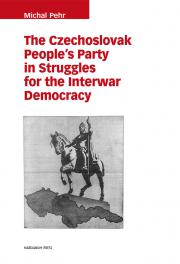 The Czechoslovak People's Party in Struggles for the Interwar Democracy
Il libro, interamente in lingua inglese, descrive la storia del Partito popolare cattolico cecoslovacco nel periodo tra le due guerre.
In quel tempo, il nuovo Stato si stava affermando come Stato laico. Quale fu il ruolo del partito cattolico nel quadro delle forze politiche tra le due guerre? Cosa ha ottenuto il partito e viceversa, cosa non ha funzionato?
Michal Pehr
> back to top
storico e politologo, è ricercatore presso il Masaryk Institute e l'Archivio della Czech Academy of Sciences.
Caratteristiche
Year
: 2018
Pages
: 240
ISBN
: 978-88-6512-610-3
Questo articolo è
available