Milton, the sublime and dramas of choice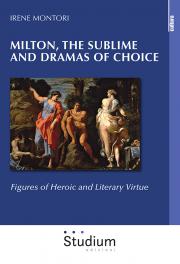 Milton, the sublime and dramas of choice
Figures of Heroic and Literary Virtue

Milton, the Sublime and Dramas of Choice challenges readers and scholars to rethink Milton's relationship to the sublime in terms of ethics. The book demonstrates that Milton's sublimity merges the early modern reception of Longinus with classical, medieval, and Renaissance categories of magnanimity, wonder, and inspiration to investigate the relations between human and divine agency. Under the influence of early modern models of sublimity, including Spenser and Shakespeare, Milton speaks through his fictional characters about the making of heroic and literary virtue. In turn, the work also sheds light on the importance of tragedy as an additional source to the formation of the Renaissance sublime. Milton's tragic plots illustrate how the character's virtue is tested, strengthened, and eventually transformed into an experience of elevation. The study explores the heroic path from dramatic choice to self-realisation, offering extensive treatments of Milton's dramas – A Maske and Samson Agonistes. The redefinition of the pairing "Milton and the sublime" in this work aims to relocate the poet within the English literary history as the climax of earlier traditions and receptions of the sublime, but also as the starting point of modern sublimity.
Se vuoi acquistare la spedizione con Corriere: AGGIUNGI IL PRODOTTO AL CARRELLO E CLICCA QUI
Recensioni
Irene Montori
> torna su
received her PhD in English Language Literatures from Sapienza, University of Rome. She has published articles on such diverse topics as Shakespeare, Milton, and Tasso, the biblical influences on literary texts and intertextuality.
Caratteristiche
Anno
: 2020
Numero pagine
: 240
ISBN
: 978-88-382-4868-9
Questo articolo è
disponibile